Quick and innovative protective solution for world-leading client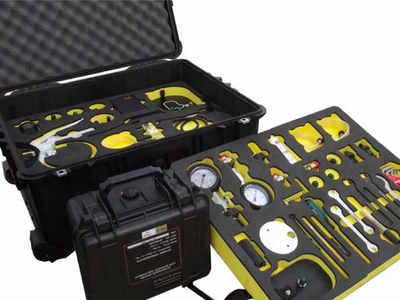 Barum & Dewar is known to love a challenge and so when longstanding client, JFD reached out with a fast turnaround requirement, the team got straight to work.
JFD is the world-leading underwater capability provider, serving the commercial and defence markets with innovative diving, submarine and hyperbaric rescue, technical solutions and services.
JFD required a toolkit with foam inserts for a key defence client in a matter of days but did not yet have access to all the tools that would be required to fit into it. The Barum & Dewar team were resourceful with the information that they did have – 2D and 3D CAD drawings, and communicated extensively via email to agree on shapes and sizes for the foam.
Having undertaken this type of work for JFD for more that 20 years, Barum & Dewar had a strong idea of what was required from the outset. All the tools were carefully laid out into dual colour plastazote foam trays and fitted into a Peli 1600 protective case. The case provided a high degree of protection for this military application whilst the dual colour foam inserts provided both protection and a clear layout for all tools.
Barum & Dewar is delighted to have been able to design, manufacture and deliver this project within days, and several days ahead of the deadline.