Events 2022 Retrospective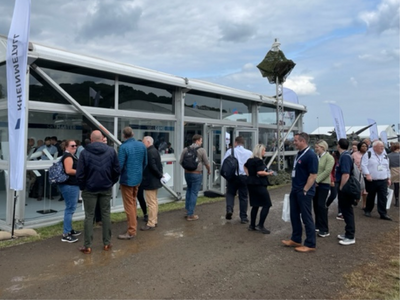 Since the start of COVID-19, thousands of events were postponed, cancelled, or moved to virtual platforms. It has been a pleasure to see the full return of in-person events this year and getting the opportunity to network with peers face-to-face and hear advances in the different sectors.
Barum & Dewar's Managing Director, David Frame, attended four events throughout the course of 2022, the first of which was DPRTE 2022 (Defence Procurement, Research, Technology & Exportability) in May.
David said of the event, 
"It was great to be able to attend DPRTE 2022 this year after a long break in live events. The event was well organised and had a great attendance, providing an invaluable opportunity to connect with clients, partners and those involved at all stages of the supply chain within the defence industry."
In June, David travelled to France to attend Eurosatory 2022. Eurosatory is a trade fair dedicated to the land and airland defence and security sectors and brings together worldwide exhibitors, visitors and journalists.
David said, 
"Eurosatory only comes around every second year so it's always a privilege to go along and experience it. With over 62,000 visitors this year, it was a huge event and a great showcase of global advances in technology. It was exciting to see the ever-growing need for the full-service packaging solutions that Barum & Dewar can offer."
David also attended Farnborough International Airshow in July. For decades, the show has been the global platform for the aerospace and defence industry where exhibitors can showcase innovation to a truly global audience.
David tells us, 
"Farnborough International Airshow was focussed on six key themes this year which were space, defence, sustainability, innovation, future flights and workforce. These are all key focus areas for Barum & Dewar, and I came away from the event encouraged by the interest shown by the delegates."
The final event David attended was DVD 2022 in September. The event took place at UTAC Millbrook and enables focussed engagement between the Defence industry, DE&S Delivery Teams, Army HQ staff and other Defence community users of Land Equipment. 
David said, 
"It was great to see the latest advancements across the defence industry. As technology gets ever more sophisticated and there is more appetite for deployable solutions, the demand for high-quality protection becomes ever more relevant and necessary."
The entire team at Barum & Dewar are looking forward to the opportunities that the 2023 events calendar will bring and are ready to engage with clients past and present again in the new year.