Protective Foam - Options, Design and Manufacture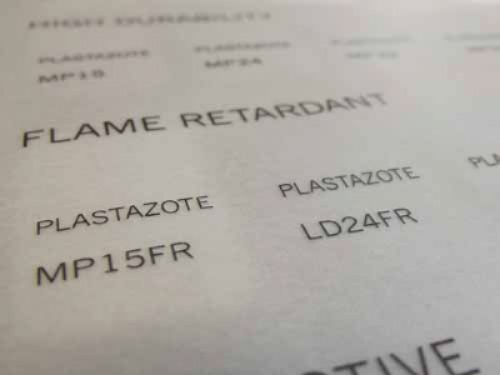 Grades
Barum and Dewar can advise and select the optimum grade of foam to provide best possible protection for your equipment. We manufacture using closed cell polyethylene Zotefoams which offers increased rigidity, higher temperature resistance, good durability and resistantance to fluids.
Low density (LD) grades range from LD15 up to LD70 (number donotes the weight of 1m³ of raw material). LD18, LD29 and LD45 are common selections. Conductive (SD & CN), flame retardant (FR), low smoke (F & FHT), high temperature (NA & NB) and high durability (MP), amongst others, are all available in a variety of densities.
We also offer cost effective open cell foams where their use is appropriate.
---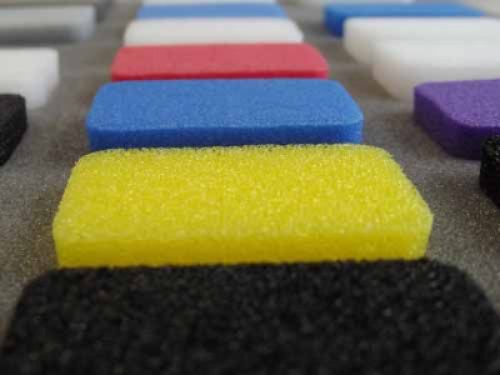 Colours
Many colours are available including black, white, a variety of greys, blue, yellow, red, green etc.
Multiple colours can be used in the same foam insert. This creates contrast and can help with equipment location in the foam or perhaps to display a company logo. During machining, an upper layer is machined through to expose a different colour layer beneath.
---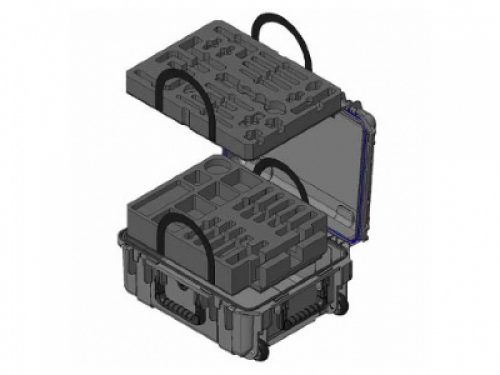 Design
Barum & Dewar use the latest Creo 3D computer aided design (CAD) modelling software from PTC to create foam layouts.
Apertures matching contents to be protected are modelled to create a virtual prototype. If client content 3D CAD data is available it can be assembled into the design to realistically visualise how the final insert will appear.
Our engineers create innovative designs ensuring foam inserts are as small as possible whilst offering good protection, resulting in a final case that is cost effective and user friendly. With our quotations, we present detailed drawings to clients so our proposals can be easily appreciated.
---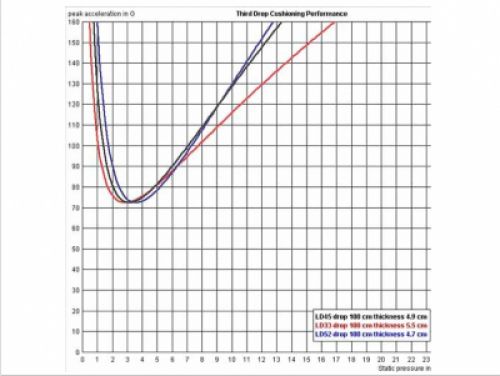 Calculations
Barum & Dewar have sophisticated shock analysis software. This can be employed to calculate the optimum foam grade, thickness and contact area in order to protect very sensitive equipment from shock in the event of a drop.
We can aim to reduce the shock level seen by contents to a minimum against a selected drop height. Alternatively, if the fragility and weight of contents are known (or be reliably estimated), analysis can be undertaken to ensure this level is not exceeded.
Typically case with foam designs optimised in this way are larger, more complex and less aesthetically pleasing that standard designs.
---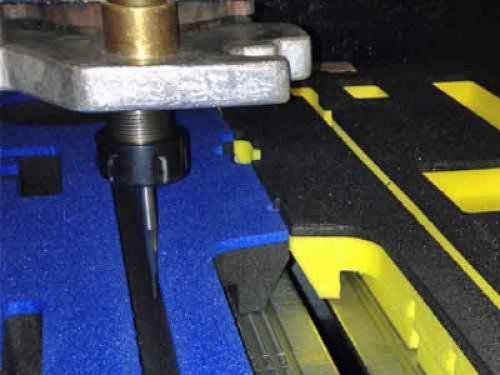 Manufacture
To be as efficient as possible Barum & Dewar utilise computer aided manufacturing (CAM) techniques.
Foam insert CAD models created during the design process are digitally exported and directly used to program computer numerically controlled (CNC) foam cutting machines. The machines accurately follow paths and profiles from the CAD data to ensure final inserts match the intended design exactly. Multi-head machines are used to increase productivity further.
Before dispatch inserts are cleaned, heat sealed and bonded into cases where required and finally quality inspected.
---